All White Contacts with No Pupil Special Effect
As we all know, contact lenses can correct vision. We hardly know that some are cosmetic contact lenses or just use them to change one's eye color. They have no prescription, there is even the color such as
all white contacts
. There are types of non-prescription contact lenses with different colors and patterns. A pair of colored contact lenses will make your eyes look wild and crazy.
Some colored contacts are popular today, especially for fashionistas. Maybe you will be surprised by the high-demand contact lenses, one is white contacts. They are beloved by young people who want to create a distinctive and unique appearance, such as FX. You can see many teenagers make this kind of fashion statement.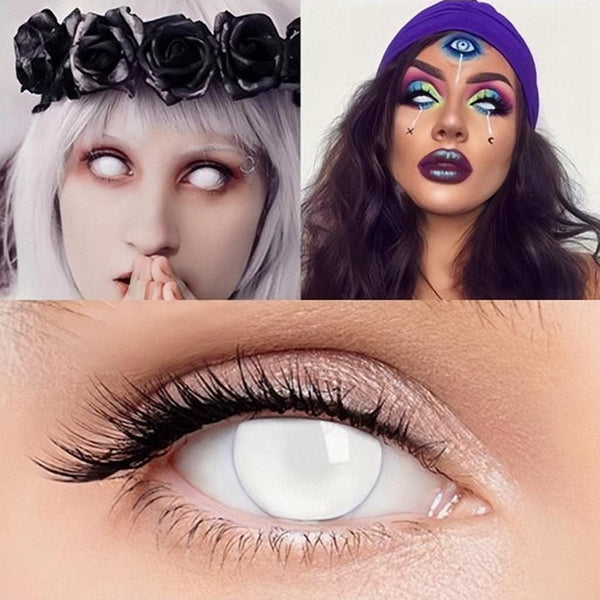 Create a dramatic or bold statement with
blind white special effect colored contact lenses
. You can really have fun with these colour contacts, creating many looks and images.
To perfect their image, all black contacts are a way to show FX style. At one time, the white contact lens only was used for entertainment, such as movies or drama. Nowadays, they have become an essential accessory for young people who want to express a weird and strange style.
People may say, wearing white contacts is very unusual. But honestly, this catches more attention. They may begin with a scary look but are cool and freaky. Most white-colored contact lenses fit all types of eyes. No matter naturally dark or light eyes, the colored contacts will make your style statement. You can even make a bold choice to wear the all-white contacts or other colors.
White contacts are one of the best accessories for Halloween. Especially if you want to play a vampire or zombie, they will make the next level of horrible for your costume. They will complete your overall look. Who doesn't want to be the focus of the party?
If you are looking for an eye-catching accessory, you should consider the all-white contacts. You can use them in various costumes, including Nosferatu, Zombie, or Anime. All of these are fun ways to express yourself. You can wear them every day for special occasions.
---