Among many colored contact lenses, blue is known as the coldest and purest color. And girls with big blue eyes will make themselves feel sexy.
From the contact lenses brands in the market, there is a range of
blue contacts
. It also adds more fashion elements to the blue contact lenses such as two-tone blue, sky blue, sapphire blue, donut blue, aqua blue, deep blue, juice blue, fruit blue, etc. The blue contacts bring consumers more actual effects, showing different details and temperament with various fashionable individual elements.
Planet blue colored contact lenses
- A certain charm and appeal which is quite unique.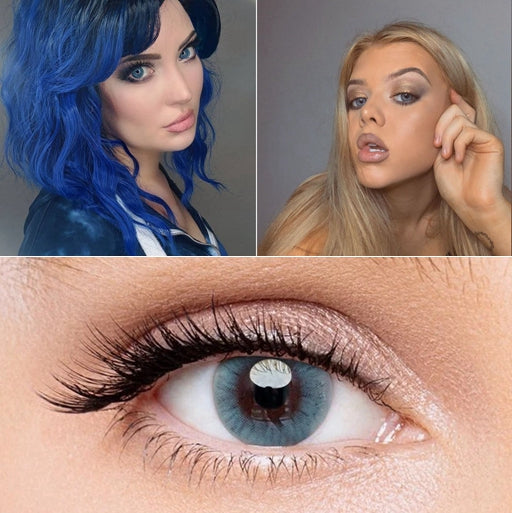 What style of blue contacts looks good? There are also two types of blue-colored contact lenses. One is natural, and the other is bright. If you like natural and simple ones, you can choose polar lights blue, queen blue, and crystal ball blue. If you prefer bright colors, you can select moonlight blue, camomile blue, and starry sky prescription contact lenses.
Makeup tips for blue contacts:
The blue contact lens is more prominent, so the eye makeup is difficult to control. The most suitable one is to bring a bit of European and American style smoky makeup.
Eyebrows: Light-brown or grayish black are suitable.
Eyes: Choose a light makeup style to show the clarity and brightness of blue eyes.
Eyelashes: Using brown or black eyelashes.
Lip color: Using pink, rose-red and other colors.
Hair color: Brown or light brown is good.
Clear sky colored contact lenses
- These 3-tone contacts define your eyes perfectly while adding a pop of swirling color and a slight enlarging effect.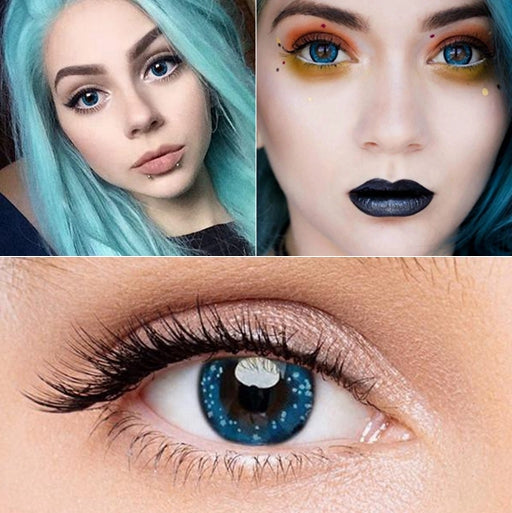 There are strict requirements on skin tone and even makeup for wearing blue color contact lenses. They are great for fair skin and deep facial features.
In fact, with the improvement of contact lenses, the colors of lenses are constantly changing. Many blue cosmetic contacts on the market are not too conspicuous, and the wearing effect is very natural. Today, we recommend one for everyone — Donut Blue Colored Contact Lenses.
Donut blue colored contact lenses
- These 2-tone contacts featured a blue-brown defined iris with a donut design.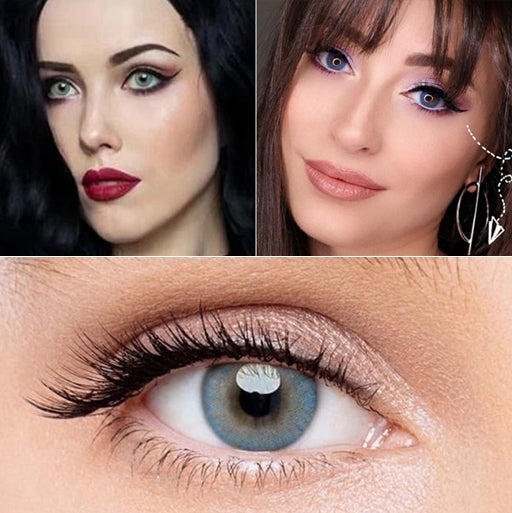 The blue outer ring is irregularly distributed, weakening the impact of the color, but adding a hazy beauty, with a bit of blue light, making the eyes shine.
The blue color contacts are perfect for fair-skinned people and have a more charming feeling. Generally, as long as you don't choose bright colors, blue contacts are still a good match. The general blue color will make your eyes naturally deep and full of exotic style.
Pick a colored contact lens that suits you and match it with an exquisite makeup look. It's simply too beautiful.
---