Top 3 Blood Red Contacts Lenses of 2021
Red is a more dazzling color. Items made with red, such as clothes, shoes, ornaments, etc., can always stand out in seconds, and this is no exception for colored contact lenses. The
red contacts lenses
have their own unique style. Wearing red color contact lenses can improve the charm value.
We rarely see red-colored contacts in our daily life, and many people still cannot accept pure red lenses that are too exaggerated and dazzling. However, in cosplay, blood-red color lenses and Rinnegan eye contacts are the most popular ones. When posing as a vampire and other characters, red color contacts are a better choice. The red contacts are more attractive. Put on red-colored lenses, if it's the night...
The most common type of red contact lenses is the Sharingan lenses, especially the Sasuke Mangekyou Sharingan contacts are the most popular. Sharingan is a kind of pupil technique in "Naruto". Imagine yourself as the protagonist in the anime when wearing the Sharingan contacts.
Top 3 Red Contacts
Elf red Naruto Sharingan colored contact lenses
Accented by a black outer ring, yellow-defined interior with a yellow circle in the center, these 3-tone blood contacts will make your eyes appear completely inhuman.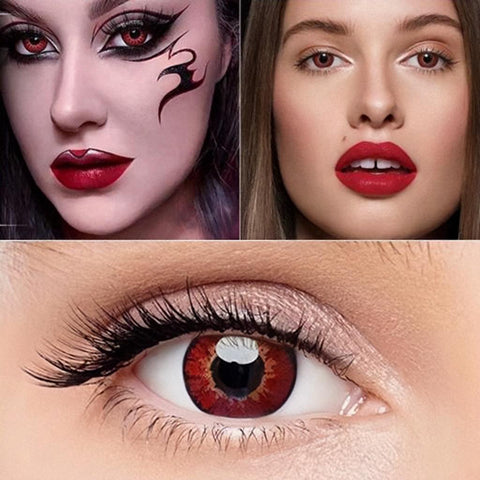 Red blind colored contact lenses
If you want the real extreme in crazy contacts, these eye contacts would be great, they are designed to cover the whole iris and put out a scare.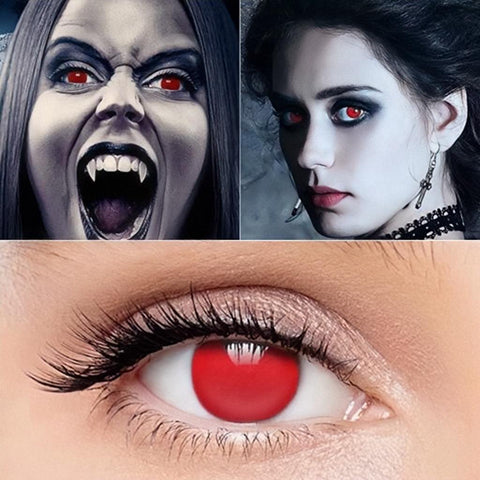 Mystery red Naruto colored contact lenses
Vivid blood-red contacts are the perfect finish to any Halloween or cosplay outfit. Accented by a black limbal ring and red gemstone that finishes off your spooky personality.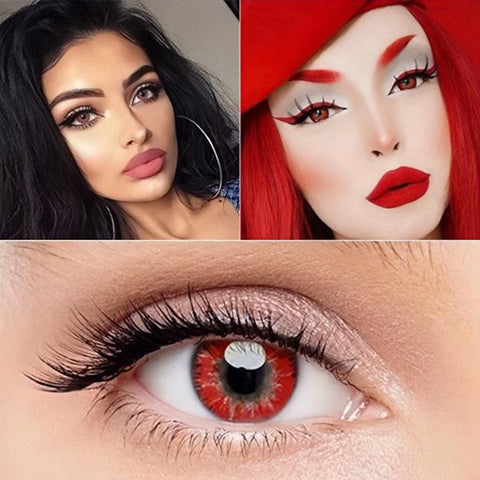 In addition to the pure colors used for cosplay, you can also choose light colors, such as pink, burgundy, pink-purple, purple-brown, etc.
At the costume party, red contact lenses are even more popular. Wearing red contacts, you can dress up as a bunny, an elf, or a monster. In this year's Halloween costume dance, many actors put on red contact lenses in order to create realistic makeup.
The red color contacts not only create a frightening environment, but also show the personality charm. To avoid the effect that is too prominent, you can give priority to wine red and pink when choosing red contacts. A light red color can make the overall makeup more spiritual.
In daily life, very few people wear red contact lenses. For ordinary people, they are more exaggerated. For example, if you are playing a vampire, wearing red contacts can get a vibrant effect on your eyes.
The red-colored contact lenses create a panic atmosphere and show a stronger personality charm, highlighting the effect.
---