Best Crazy Contacts for Halloween Events & Theatrical Performances
Crazy contacts
, also so-called special effects contact lenses, are a fresh accessory that has become beloved in the past few years. These crazy contact lenses are perfect for fancy dress competitions, Halloween events, parties, movie actors, and various special occasions.
If you were dressing up as the devil, you would want to wear crazy contact lenses for the best effect. A pair of crazy contact lenses can make you and your friend have a scary appearance in dressing-up. As we all know, playing another personality, animal, anime, or evil demon can increase the freaky effect.
There are five types of special effects contacts, which are best for Halloween and Gothic scenes. For example, your favorite werewolf, Sharingan, vampire, zombie, and cat-eye contact lenses.
Movies, stage performances, gothic geeks, and heavy metal/rock/punk music scenes all brought crazy contact lenses to the forefront.
Red vampire colored contact lenses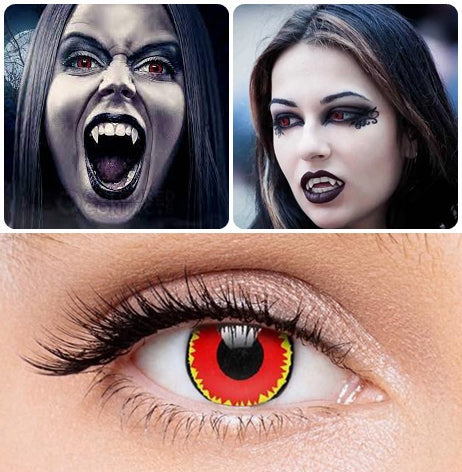 The design features blood-red irises with a black, yellow limbal ring surrounding your pupils to give off a creepy aura to finish your costume.
Give your eyes a devilish glow. Red is the most dominant and extreme color of all special effects contact lenses. Its color is evil blood-red. These are great for any style of horror or black gothic costume. The most common Halloween costumes include the theme of demon, vampire, snake, dragon, dinosaur, and Greek mythological creatures. These costumes are perfect for these contact lenses.
Devil red naruto colored contact lenses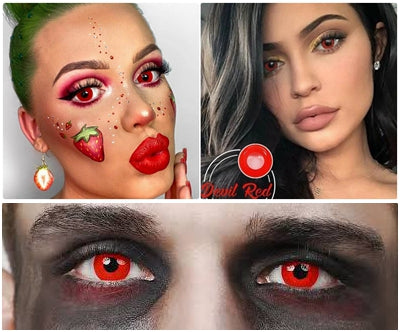 Accented by smooth red color surrounding the pupils, devil red naruto contacts deliver your eyes a bright, unnatural red, completely transforming your look! Special effects crazy contact lenses appear in many movies and cosplay. These devil red contact lenses can chill the spine of any human prey.
Zombie curse white colored contact lenses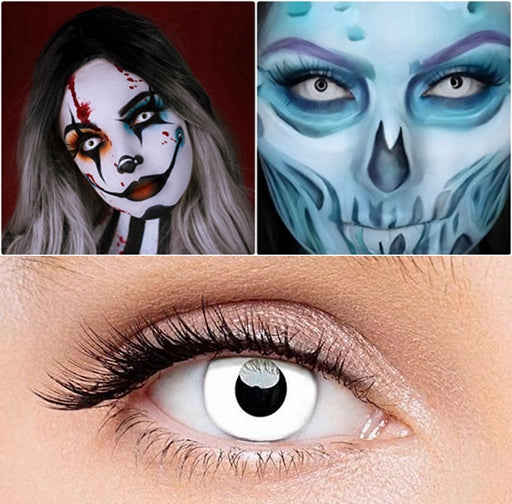 These contact lenses are real and can make your eyes look totally "out there". Accented by pure white irises, these weird contacts are ideal for any ghost, killer, or zombie event.
Yellow twilight werewolf colored contact lenses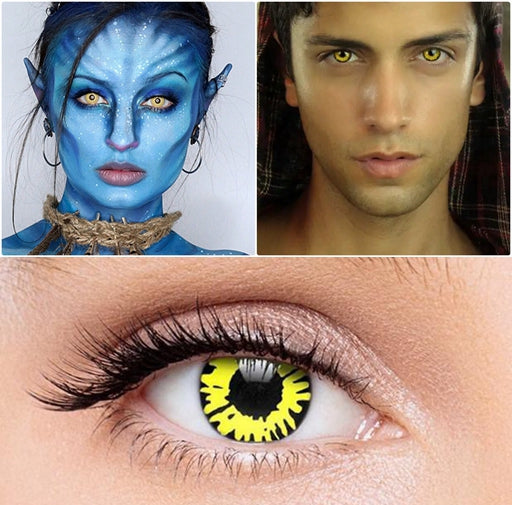 The twilight werewolf contact lens has a sharp appearance, with a black outer ring and a golden inner ring. Change up your eyes completely and make a creepy look with wolf contacts. Suitable for any werewolf appearance or black gothic theme.
White cat special effect colored contact lenses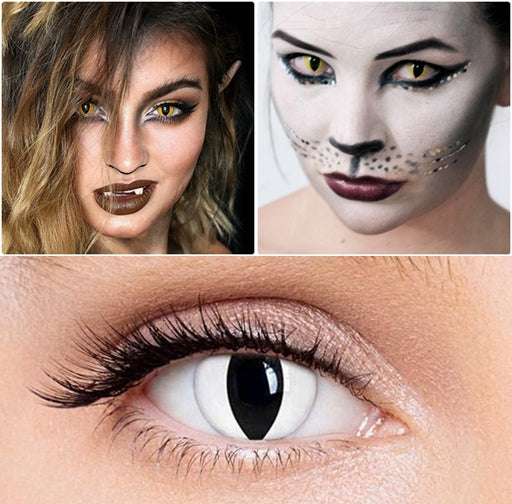 The cat-eye lenses can help you look scary and sexy as well. These lenses have typical vertical pupils and are sure to make you stand out from the crowd. Great for all catsuits and different animal costumes.
---